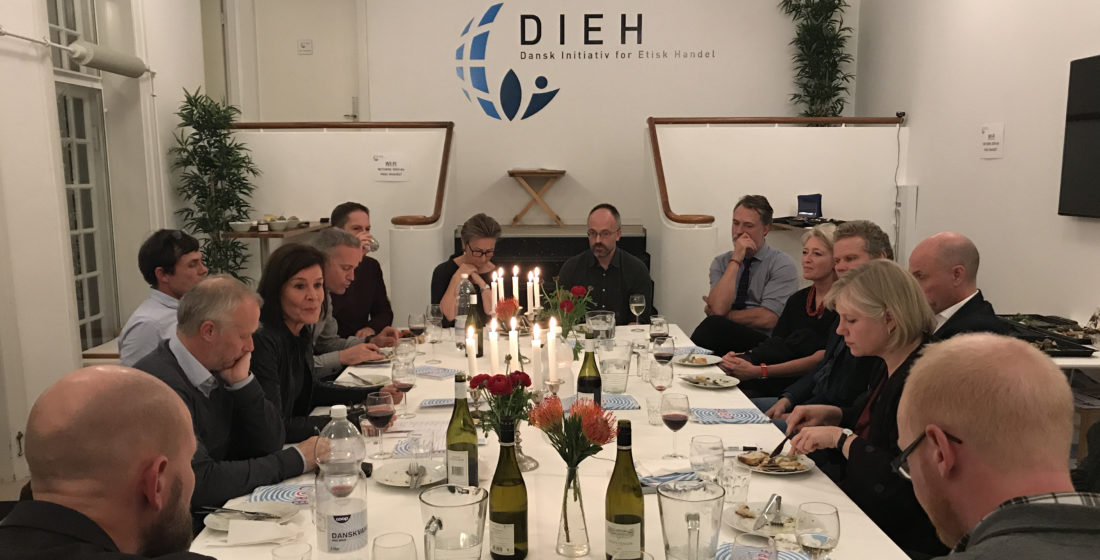 Copenhagen, Denmark
The need for change and for sharing of our joint potential
Danish Ethical Trade Initiative (DIEH) and KJAER ADVICE together hosted a book-launch dinner and debate with prominent guests from business, public and private organizations, academia and media. Prompted by Neil Gaught presenting his book: "CORE: How a Single Organizing Idea Can Change Business for Good" attendees debated how to move affirmation of sustainability goals and visions to the next level in terms of real action and multi-stakeholder collaboration.
The speed of change in our global and interconnected society is unprecedented. Should we be fearful or optimistic about the future, was one of the questions that participants debated. One of the novelties in our time is the UN Global Goals that call on business as 'a force of good' to assist in tackling global challenges. But is the demand for businesses to be a central part of the solution to global challenges too demanding? And does the focus on business move focus away from the obvious responsibility and authority away from governments? And where does it leave the NGOs?
Partnership collaboration, experimentation and long-termism were among the recommendations coming from participants who were generously sharing their experiences, aspiration and ideas:
Too often do we look at traditional solutions – instead of challenging our perception of how to make profitable business or best social service provision. But thankfully, stories shared by e.g. IKEA, Arla Foods, Novo Nordisk and A.P. Moller Maersk gave evidence of many experiments ongoing, where partnering with new players from both civil and public sector represents an innovative and risk taking approach. "We need to get our hands dirty" and allow for more experimentation, was a comment repeated in the group. Because there is so much more potential waiting to be reaped if organizations (public and private) would encourage cross-sector partnerships and allow a different time perspective for 'return of investment'.
But there are barriers to change-making and innovation within organization: Lack of incentive structures, traditional focus of shareholder expectations, concerns of brand safeguarding etc.
If, however, we are to move beyond sporadic CSR initiatives and obtain the promise of the UN Goals we need to get our organizations fit for transitioning into the future.
This is where Neil Gaught inspired the audience by explaining how a Single Organizing Idea' may help businesses 'think smarter' about the long-term and more clearly organize around a strategy set at the core of the business. "By translating your purpose into a clearly defined Single Organizing Idea (SOI), you can expect to be able to set goals, objectives and targets with greater ease across all the functions of your business. And you can expect to see greater clarity in decision making to see new possibilities and opportunities to deliver greater and different types of value to your key audiences", Gaught argued.
Creating the most successful partnerships
The group was generally enthusiastic about opportunities and potential for creating greater impact in multi-stakeholder collaboration. It is time to cross-fertilize from different sector resources and contributions.  The group acknowledged, however, that there are oftentimes cultural barriers to overcome. We know too little about what's going on in terms of strategic thinking and change potential within sectors different from your own. We must learn to more clearly articulate our respective 'value propositions' and to listen more carefully and be inspired by those who think differently from us. It may be useful to invite on board a professional challenger and facilitator helping you look at your business or organization to help you quickly uncover how best to build new initiatives in collaboration with others.
The dialogue across sectors and positions left us with an even stronger belief in multi-stakeholder dialogue and collaboration as a direct route to accelerating fruitful partnerships and innovative work contributing to the global goals.
Summing up and while finishing dinner and wine it was agreed that:
We need strong leadership
We need clear purpose, strong values and long term perspectives in our work
We should encourage and advocate for more experimentation within our organizations, executive boards and committees.
Also take a look at Incentive structures – companies respond to incentives, so for successful implementation of sustainability strategy, there must be relevant incentives/KPIs in
Learn from each other
Bonus info:
Neil Gaught is on a world tour to promote and debate his idea of a Single Organizing Idea within organizations. Until now he has held similar dinner-debate events in Seattle, Boston, Washington, Montreal, London, Oslo, Beirut, New York and more to come.
Find the CORE book on Amazon: https://www.amazon.co.uk/Core-Single-Organizing-Change-Business/dp/178353785X